Respect is earned, not demanded. Be the Bigger Man!
The world's most innovative condom has a re-engineered structure but the same protection, same pleasure in a 10% bigger size. A bigger size offers more comfort, and a greater depth of choice. At 58mm wide and 10% longer than HEX Original, HEX Respect is now one of the biggest condoms on the market. Now bigger than ever thanks to huge customer demand, Hex Respect XL condoms are the latest from the world-famous LELO Hex range. Featuring the same blend of science, safety and sex appeal that makes LELO Hex Original Condoms one of the best-selling condoms, HEX Respect XL large size condoms take that technology and upsizes it for bigger guys.

Suit Up, the LELO Hex Respect XL Condoms comes packed in a stylish container to suit your lifestyle and larger in all dimensions. Hex Respect XL is the condom for larger men who respect sex and take pride in their pleasure. The LELO Hex Respect XL is 58mm in diameter and 195mm long, which is the average condom size. The thickness of Hex varies slightly between 0.045mm and 0.055mm (0.0017-0.0021 inches).

The re-engineered latex structure combines thinness and strength with the same revolutionary design of HEX Original (and the same 350 small hexagons). One of the thinnest condoms around, HEX Respect XL uses panels to help transfer body heat for more intimate sensations. Imperceptible to the touch, a hexagonal texture on the inside of the condom reduces slippage and improves grip during sex. Ensure ultimate comfort for both partners with a lightly lubricated condom with a neutral scent.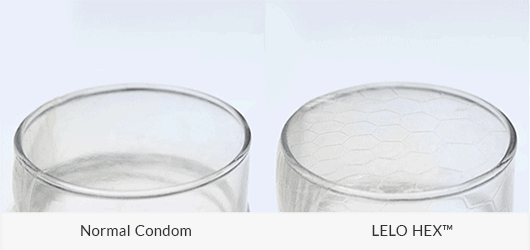 Texture on the inside ?!? Exactly! This is what makes Hex Respect so special. This inner 'net' not only functions as a reinforcement structure, it enhances grip and sensation. When touching the condom you'll immediately notice the raised inner hexagonal pattern. But when you're using it, you'll be too focused on your partner. Condoms don't bring you pleasure, your partner does, and that's truer for Hex than any other condom, at least as far as our experience and testing suggests.
These condoms have no animal derivatives, and thus they are vegan friendly. All of the LELO Luxury toys are made with the highest quality materials, always use a quality water based lubricant with your LELO toys, clean before and after use plus between partners. After use, carefully wash the toy with mild soap and water or try the Toy Cleaner for even quicker cleanup. Store this toy separately from other sex toys.
SPECIFICATIONS
Color: Clear
Materials: Natural latex condom Lightly lubricated
Thickness: 0.045mm thin
Width: 58mm diameter
Width: 195mm
Weight: .15 oz
Powered By: Hexagons
Special Feature: Hex inner net structure, 10% larger size, 36-pack, premium lubricant, phthalate free, travel-friendly, quiet, new stylish packaging
Recommended for the Lelo HEX Respect XL Condoms - 36 Pack
Product title
Vendor
$19.99 CAD | $24.99 CAD
Product title
Vendor
$19.99 CAD | $24.99 CAD
Product title
Vendor
$19.99 CAD | $24.99 CAD
Product title
Vendor
$19.99 CAD | $24.99 CAD